Master of Arts in Education
The Master of Arts in Education program (MAED) is graduate program that develops competencies of classroom teachers and other education professionals to undertake research in specific areas within the broad field of educational science and practice. It enhances and expands teacher's theoretical and technical knowledge for teaching specific subject or professional area, thereby, improving teacher's efficacy in the production of innovative and creative instructional materials for an improved teaching-learning process.
The program focuses on the replication, verification, validation, contextualization, and/or application of theoretical knowledge about the different aspects of educational process in the various fields of the MAEd program.
REPUBLIC OF THE PHILIPPINES
PANGASINAN STATE UNIVERSITY
SCHOOL OF ADVANCED STUDIES
URDANETA CITY
Master of Arts in Education
MAJOR IN EDUCATIONAL MANAGEMENT
(CMO 53 S. 2007 – EFFECTIVE SY 2020-2021)
 
I. Foundation Courses (9 Units)
| | | |
| --- | --- | --- |
| Course Code | Course Title | Units |
| EDF 201 | Methods of Research | 3 |
| EDF 202 | Statistics in Education  | 3 |
| EDF 203  | Legal Bases of Education & Policy Analysis  | 3 |
II. Specialization Courses (15 Units)
| | | |
| --- | --- | --- |
| Course Code | Course Title | Units |
| EDM 211 | Institutional Fiscal Management | 3 |
| EDM 212 | Program/ Project Planning & Evaluation | 3 |
| EDM 213 |  Personnel Management  | 3 |
| EDM 214 | Dynamics of Rural Development   | 3 |
| EDM 215 | Curriculum Development | 3 |
III. Elective/Cognate Courses (3 Units)
| | | |
| --- | --- | --- |
| Course Code | Course Title | Units |
| EDM 221 | Computer Applications in Management | 3 |
| EDM 222 | Seminar in Manpower Development   | 3 |
IV. Computer Courses (3 Units)
| | | |
| --- | --- | --- |
| Course Code | Course Title | Units |
| Comp 1 | Statistical Packages | 3 |
V. Comprehensive Examination
VI. Thesis Writing (6 Units)
| | | |
| --- | --- | --- |
| Course Code | Course Title | Units |
| EDM 300 | Thesis Writing | 6 |
PSU REQUIREMENT- SUMMARY OF UNITS:

Foundation Courses
      9
Specialization Courses
     15
Elective/ Cognate Courses
      3
Computer Course
      3
Thesis Writing
     

6

TOTAL
     36

CHED REQUIREMENT- SUMMARY OF UNITS:

Core/Foundation
     9
Major Courses
     15
Cognates
     6
Thesis Writing
     

6

TOTAL
     36
REPUBLIC OF THE PHILIPPINES
PANGASINAN STATE UNIVERSITY
SCHOOL OF ADVANCED STUDIES
URDANETA CITY
Master of Arts in Education
MAJOR IN COMMUNICATION ARTS-ENGLISH
(EFFECTIVE SY 2020-2021)
 
I. Foundation Courses (9 Units)
Course Code
Course Title
Units
EDF 201


Methods of Research

3
EDF 202


Statistics in Education 

3
EDF 203 


Foundational Theories and

Principles of Education

3
II. Specialization Courses (15 Units)
| | | |
| --- | --- | --- |
| Course Code | Course Title | Units |
| CAE 211 | Linguistics, Language Acquisition, and Communication Theories and Principles | 3 |
| CAE 212 | Principles and Practices of Second Language Learning and Teaching | 3 |
| CAE 213  | Sociolinguistics, Cross-Cultural Pragmatics and Intercultural Communication | 3 |
| CAE 214  | Theories and Practices of Writing   | 3 |
| CAE 215  | Principles and Practices of Literature Teaching | 3 |
III. Elective/Cognate Courses (3 Units)
Course Code
Course Title
Units
CAE 221
Survey of ESL Areas and Methods
3
CAE 222

Development of Instructional Materials

in Language and Literacy

3
IV. Computer Courses (3 Units)
| | | |
| --- | --- | --- |
| Course Code | Course Title | Units |
| Computer 1 | Statistical Packages | 3 |
V. Comprehensive Examination
VI. Thesis Writing (6 Units)
| | | |
| --- | --- | --- |
| Course Code | Course Title | Units |
| CAE 300 | Thesis Writing | 6 |
PSU REQUIREMENT- SUMMARY OF UNITS:

Foundation Courses
      9
Specialization Courses
     15
Elective/ Cognate Courses
      3
Computer Course
      3
Thesis Writing
     

6

TOTAL
     36

CHED REQUIREMENT- SUMMARY OF UNITS:

Core/Foundation
      9
Major Courses
     15
Cognates
      6
Thesis Writing
     

6

TOTAL
     36
REPUBLIC OF THE PHILIPPINES
PANGASINAN STATE UNIVERSITY
SCHOOL OF ADVANCED STUDIES
URDANETA CITY
Master of Arts in Education
MAJOR IN COMMUNICATION ARTS-FILIPINO
(CMO 53 s. 2007, Effective SY 2020-2021)
I. Foundation Courses (9 Units)
Course Code
Course Title
Units
EDF 201


Methods of Research

3
EDF 202


Statistics in Education 

3
CAF 210


Mga Simulain, Kalakaran at Pamamaraan

sa Pagtuturo ng Filipino

3
II. Specialization Courses (15 Units)
| | | |
| --- | --- | --- |
| Course Code | Course Title | Units |
| CAF 211 | Lingwistika at ang Pagtuturo ng Filipino | 3 |
| CAF 212 | Palatunugan at ang Kayarian ng Filipino | 3 |
| CAF 213  | Mga Akda sa Filipino at Iba't – Ibang Katutubong Wika | 3 |
| CAF 214  | Malikhaing Pagsusulat    | 3 |
| CAF 215  | Pagsasanay sa Pamamahayag ng Filipino | 3 |
III. Elective/Cognate Courses (3 Units)
| | | |
| --- | --- | --- |
| Course Code | Course Title | Units |
| CAF 216 | Panunuring Pampanitikan | 3 |
| CAF 217 | Sining ng Pakikipagtalastasan at Praktikum | 3 |
IV. Computer Courses (3 Units)
| | | |
| --- | --- | --- |
| Course Code | Course Title | Units |
| Computer 1 | Statistical Packages | 3 |
V. Comprehensive Examination
VI. Thesis Writing (6 Units)
| | | |
| --- | --- | --- |
| Course Code | Course Title | Units |
| CAF 300 | Thesis Writing | 6 |
PSU REQUIREMENT- SUMMARY OF UNITS:

Foundation Courses
      9
Specialization Courses
     15
Elective/ Cognate Courses
      3
Computer Course
      3
Thesis Writing
     

6

TOTAL
     36

CHED REQUIREMENT- SUMMARY OF UNITS:

Core/Foundation
     9
Major Courses
     15
Cognates
     6
Thesis Writing
     

6

TOTAL
     36
REPUBLIC OF THE PHILIPPINES
PANGASINAN STATE UNIVERSITY
SCHOOL OF ADVANCED STUDIES
URDANETA CITY
Master of Arts in Education
MAJOR IN COMPUTER EDUCATION
(CMO 53 s. 2007, Effective SY 2020-2021)
I. Foundation Courses (9 Units)
| | | |
| --- | --- | --- |
| Course Code | Course Title | Units |
| EDF 201 | Methods of Research | 3 |
| EDF 202 | Statistics in Education  | 3 |
| MACE 210 | Educational Management Info. Systems | 3 |
II. Specialization Courses (15 Units)
| | | |
| --- | --- | --- |
| Course Code | Course Title | Units |
| MACE 211 | Introduction to Instructional Programming | 3 |
| MACE 212 | Systematic Design in Computer Instruction | 3 |
| MACE 213  | Multimedia Production | 3 |
| MACE 214  | Comp. System Organizations and Microcomputer Tech. | 3 |
| MACE 215  | Instructional Role of Information Specialist in Education | 3 |
III. Elective/Cognate Courses (3 Units)
                         (Choose one (1) subject from the following courses)
| | | |
| --- | --- | --- |
| Course Code | Course Title | Units |
| MACE 221 | Technical Skill Using Information Technology | 3 |
| MACE 222 | Special Topics in Computer Education | 3 |
IV. Computer Courses (3 Units)
| | | |
| --- | --- | --- |
| Course Code | Course Title | Units |
| Computer 1 | Statistical Packages | 3 |
V. Comprehensive Examination
VI. Thesis Writing (6 Units)
| | | |
| --- | --- | --- |
| Course Code | Course Title | Units |
| MACE 300 | Thesis Writing | 6 |
PSU REQUIREMENT- SUMMARY OF UNITS:

Foundation Courses
      9
Specialization Courses
     15
Elective/ Cognate Courses
      3
Computer Course
      3
Thesis Writing
     

6

TOTAL
     36

CHED REQUIREMENT- SUMMARY OF UNITS:

Core/Foundation
     9
Major Courses
     15
Cognates
     6
Thesis Writing
     

6

TOTAL
     36
REPUBLIC OF THE PHILIPPINES
PANGASINAN STATE UNIVERSITY
SCHOOL OF ADVANCED STUDIES
URDANETA CITY
Master of Arts in Education
MAJOR IN EARLY CHILDHOOD EDUCATION
(GR No. 075, s. 2010 Res. No. 524-A-2008, Effective SY 2010-2011)
I. Foundation Courses (9 Units)
| | | |
| --- | --- | --- |
| Course Code | Course Title | Units |
| EDF 201-A | Foundations of Early Childhood Education | 3 |
| EDF 202 | Statistics in Education  | 3 |
| EDF 203 | Methods of Research | 3 |
II. Specialization Courses (15 Units)
| | | |
| --- | --- | --- |
| Course Code | Course Title | Units |
| ECED 211 | Development in Early Childhood Education | 3 |
| ECED 212 | Early Childhood Programs and Pedagogical Approaches | 3 |
| ECED 213  | Assessing Young Learners | 3 |
| ECED 214  | Organization and Management of Early Childhood Programs | 3 |
| ECED 215  | Practicum | 3 |
III. Cognate Courses (6 Units)
| | | |
| --- | --- | --- |
| Course Code | Course Title | Units |
| ECED 216 | Early Childhood Special Education | 3 |
| ECED 217 | Multimedia in Early Childhood Education | 3 |
| ECED 218 | Educational Management | 3 |
IV. Elective Courses (6 Units)
| | | |
| --- | --- | --- |
| Course Code | Course Title | Units |
| Computer 1 | Word Processing, Spreadsheet and Using Multimedia and Internet | 3 |
| Computer 2 | Statistical Analysis w/ Computer (SPSS & EPI-Info) | 3 |
V. Comprehensive Examination
VI. Thesis Writing (6 Units)
| | | |
| --- | --- | --- |
| Course Code | Course Title | Units |
| ECED 219 | Thesis Writing | 6 |
SUMMARY OF UNITS:

Foundation Courses
      9
Specialization Courses
     15
Cognate Courses
      6
Elective Course
      3
Thesis Writing
     

6

TOTAL
     39
REPUBLIC OF THE PHILIPPINES
PANGASINAN STATE UNIVERSITY
SCHOOL OF ADVANCED STUDIES
URDANETA CITY
Master of Arts in Education
MAJOR IN GUIDANCE AND COUNSELING
(CMO 53 s. 2007, Effective SY 2020-2021)
I. Foundation Courses (9 Units)
| | | |
| --- | --- | --- |
| Course Code | Course Title | Units |
| EDF 201 | Methods of Research | 3 |
| EDF 202 | Statistics in Education  | 3 |
| GAC 210 | Personality Development and Mental Hygiene | 3 |
II. Specialization Courses (15 Units)
Course Code
Course Title
Units

GAC

211

Foundations of Guidance

3

GAC

212

Counseling Theories & Techniques  

3

GAC

213 

Psychological Testing 

3

GAC

214 

Group Guidance and Program Development 

3

GAC

215 

Internship in Guidance Organization and Administration of Guidance Services (to be taken during the semester)

3
III. Elective/Cognate Courses (3 Units)
                         (Choose one (1) subject from the following courses)
| | | |
| --- | --- | --- |
| Course Code | Course Title | Units |
| GAC 216 | Career Guidance/Counseling | 3 |
| SPED 208 | Introduction to Special Education | 3 |
| SPED 209 | Psychology of Exceptional Children | 3 |
IV. Computer Courses (6 Units)
| | | |
| --- | --- | --- |
| Course Code | Course Title | Units |
| Computer 1 | Statistical Packages | 3 |
V. Comprehensive Examination
VI. Thesis Writing (6 Units)
| | | |
| --- | --- | --- |
| Course Code | Course Title | Units |
| ECED 219 | Thesis Writing | 6 |
PSU REQUIREMENT- SUMMARY OF UNITS:

Foundation Courses
      9
Specialization Courses
     15
Elective/ Cognate Courses
      3
Computer Course
      3
Thesis Writing
     

6

TOTAL
     36

CHED REQUIREMENT- SUMMARY OF UNITS:

Core/Foundation
     9
Major Courses
     15
Cognates
     6
Thesis Writing
     

6

TOTAL
     36
REPUBLIC OF THE PHILIPPINES
PANGASINAN STATE UNIVERSITY
SCHOOL OF ADVANCED STUDIES
URDANETA CITY
Master of Arts in Education
MAJOR IN MATHEMATICS
(CMO 53 s. 2007, Effective SY 2020-2021)
I. Foundation Courses (9 Units)
| | | |
| --- | --- | --- |
| Course Code | Course Title | Units |
| EDF 201 | Methods of Research | 3 |
| EDF 202 | Statistics in Education  | 3 |
| MACE 210 | Educational Management Info. Systems | 3 |
II. Specialization Courses (18 Units)
                           (With asterisk are require courses)
| | | |
| --- | --- | --- |
| Course Code | Course Title | Units |
| MM 211 | Differential Equation * | 3 |
| MM 212 | Probability and Statistics * | 3 |
| MM 213  | Number Theory | 3 |
| MM 214  | Abstract Algebra | 3 |
| MM 215  | Math Analysis | 3 |
| MM 216 | Linear Algebra | 3 |
III. Elective/Cognate Courses (12 Units)
                         (Choose one (1) subject from the following courses)
| | | |
| --- | --- | --- |
| Course Code | Course Title | Units |
| MM 217 | Inferential Statistics | 3 |
| MM 218 | Galois Theory | 3 |
| MM 219 | Linear Regression | 3 |
| MM 220 | Mathematical Investigations | 3 |
IV. Computer Courses (3 Units)
| | | |
| --- | --- | --- |
| Course Code | Course Title | Units |
| Computer 1 | Statistical Packages | 3 |
V. Comprehensive Examination
VI. Thesis Writing (6 Units)
| | | |
| --- | --- | --- |
| Course Code | Course Title | Units |
| MM 300 | Thesis Writing | 6 |
PSU REQUIREMENT- SUMMARY OF UNITS:

Foundation Courses
      9
Specialization Courses
     15
Elective/ Cognate Courses
      3
Computer Course
      3
Thesis Writing
     

6

TOTAL
     36

CHED REQUIREMENT- SUMMARY OF UNITS:

Core/Foundation
      9
Major Courses
     15
Cognates
      6
Thesis Writing
     

6

TOTAL
     36
REPUBLIC OF THE PHILIPPINES
PANGASINAN STATE UNIVERSITY
SCHOOL OF ADVANCED STUDIES
URDANETA CITY
Master of Arts in Education
MAJOR IN SCIENCE
(CMO 53 s. 2007, Effective SY 2020-2021)
I. Foundation Courses (9 Units)
| | | |
| --- | --- | --- |
| Course Code | Course Title | Units |
| EDF 201 | Methods of Research | 3 |
| EDF 202 | Statistics in Education  | 3 |
| SED 210 | Instructional Methodology in Science Education | 3 |
II. Specialization Courses (15 Units)
| | | |
| --- | --- | --- |
| Course Code | Course Title | Units |
| SED 211 | Advanced Physical Science | 3 |
| SED 212 | Advanced Biological Science | 3 |
| SED 213  | Earth Science | 3 |
| SED 214  | Ecology | 3 |
| SED  215  | Seminar in Science, Technology and Society | 3 |
III. Elective/Cognate Courses (3 Units)
                         (Choose one (1) subject from the following courses)
| | | |
| --- | --- | --- |
| Course Code | Course Title | Units |
| SED 221 | Physiology | 3 |
| SED 222 | Disaster Risk Reduction Management | 3 |
IV. Computer Courses (3 Units)
| | | |
| --- | --- | --- |
| Course Code | Course Title | Units |
| Computer 1 | Statistical Packages | 3 |
V. Comprehensive Examination
VI. Thesis Writing (6 Units)
| | | |
| --- | --- | --- |
| Course Code | Course Title | Units |
| SED 300 | Thesis Writing | 6 |
PSU REQUIREMENT- SUMMARY OF UNITS:

Foundation Courses
       9
Specialization Courses
     15
Elective/ Cognate Courses
      3
Computer Course
      3
Thesis Writing
     

6

TOTAL
     36

CHED REQUIREMENT- SUMMARY OF UNITS:

Core/Foundation
      9
Major Courses
     15
Cognates
      6
Thesis Writing
     

6

TOTAL
     36
REPUBLIC OF THE PHILIPPINES
PANGASINAN STATE UNIVERSITY
SCHOOL OF ADVANCED STUDIES
URDANETA CITY
Master of Arts in Education
MAJOR IN SPECIAL EDUCATION
(CMO 53 s. 2007, Effective SY 2020-2021)
I. Foundation Courses (9 Units)
| | | |
| --- | --- | --- |
| Course Code | Course Title | Units |
| EDF 201 | Methods of Research | 3 |
| EDF 202 | Statistics in Education  | 3 |
| SPED 210 | Introduction to Special Education | 3 |
II. Specialization Courses (15 Units)
| | | |
| --- | --- | --- |
| Course Code | Course Title | Units |
| SPED 211 | Psychology of Exceptional Children | 3 |
| SPED 212 | Curriculum Development in Special Education | 3 |
| SPED 213  | Program Modification for Exceptional Children | 3 |
| SPED 214  | Material Production for the Exceptional Children | 3 |
| SPED  215  | Trends and Issues in Special Education | 3 |
III. Elective/Cognate Courses (3 Units)
                         (Choose one (1) subject from the following courses)
| | | |
| --- | --- | --- |
| Course Code | Course Title | Units |
| GAC 211 | Introduction to Guidance | 3 |
| GAC 212 | Psychological Testing | 3 |
| GAC 213 | Personality Development & Mental Hygiene | 3 |
IV. Computer Courses (3 Units)
| | | |
| --- | --- | --- |
| Course Code | Course Title | Units |
| Computer 1 | Statistical Packages | 3 |
V. Comprehensive Examination
VI. Thesis Writing (6 Units)
| | | |
| --- | --- | --- |
| Course Code | Course Title | Units |
| SPED 300 | Thesis Writing | 6 |
PSU REQUIREMENT- SUMMARY OF UNITS:

Foundation Courses
      9
Specialization Courses
     15
Elective/ Cognate Courses
      3
Computer Course
      3
Thesis Writing
     

6

TOTAL
     36

CHED REQUIREMENT- SUMMARY OF UNITS:

Core/Foundation
     9
Major Courses
     15
Cognates
     6
Thesis Writing
     

6

TOTAL
     36
REPUBLIC OF THE PHILIPPINES
PANGASINAN STATE UNIVERSITY
SCHOOL OF ADVANCED STUDIES
URDANETA CITY
Master of Arts in Education
MAJOR IN SOCIAL STUDIES
(CMO 53 s. 2007, Effective SY 2020-2021)
I. Foundation Courses (9 Units)
| | | |
| --- | --- | --- |
| Course Code | Course Title | Units |
| EDF 201 | Methods of Research | 3 |
| EDF 202 | Statistics in Education  | 3 |
| SPED 210 | Reading Course in Social Studies | 3 |
II. Specialization Courses (15 Units)
Course Code
Course Title
Units

SSE 211

Development Process in the Philippines
3

SSE 212

Curriculum Organization in Social Studies
3

SSE 213 

Values Education and Social Development
3

SSE 214 

Development Issues and Problems in the

Third World

3

SSE 215 

Gender, Education and Globalization
3
III. Elective/Cognate Courses (3 Units)
                         (Choose one (1) subject from the following courses)
Course Code
Course Title
Units

SSE

221
Rural and Urban Development
3

SSE

222
Philippine Insurgency Problem
3

SSE

223
Political and Economic Ideologies
3
IV. Computer Courses (3 Units)
| | | |
| --- | --- | --- |
| Course Code | Course Title | Units |
| Computer 1 | Statistical Packages | 3 |
V. Comprehensive Examination
VI. Thesis Writing (6 Units)
| | | |
| --- | --- | --- |
| Course Code | Course Title | Units |
| SSE 300 | Thesis Writing | 6 |
PSU REQUIREMENT- SUMMARY OF UNITS:

Foundation Courses
      9
Specialization Courses
     15
Elective/ Cognate Courses
      3
Computer Course
      3
Thesis Writing
     

6

TOTAL
     36

CHED REQUIREMENT- SUMMARY OF UNITS:

Core/Foundation
     9
Major Courses
     15
Cognates
     6
Thesis Writing
     

6

TOTAL
     36
REPUBLIC OF THE PHILIPPINES
PANGASINAN STATE UNIVERSITY
SCHOOL OF ADVANCED STUDIES
URDANETA CITY
Master of Arts in Education
MAJOR IN TECHNOLOGY AND HOME ECONOMICS
(CMO 53 s. 2007, Effective SY 2020-2021)
I. Foundation Courses (9 Units)
| | | |
| --- | --- | --- |
| Course Code | Course Title | Units |
| EDF 201 | Methods of Research | 3 |
| EDF 202 | Statistics in Education  | 3 |
| EDF 210 | Principles and Philosophies in Teaching THE | 3 |
II. Specialization Courses (15 Units)
| | | |
| --- | --- | --- |
| Course Code | Course Title | Units |
| THE 211 | Advanced Agricultural Technology | 3 |
| THE 212 | Advanced Industrial Arts | 3 |
| THE 213  | Advanced Home Economics | 3 |
| THE 214  | Advanced Fishery Technology | 3 |
| THE 215  | Garment Construction and Design | 3 |
III. Elective/Cognate Courses (3 Units)
                         (Choose one (1) subject from the following courses)
Course Code
Course Title
Units

SSE

221
Current Trends and Issues in THE
3

SSE

222
Principles and Processes for Enterprise Development
3
IV. Computer Courses (3 Units)
| | | |
| --- | --- | --- |
| Course Code | Course Title | Units |
| Computer 1 | Statistical Packages | 3 |
V. Comprehensive Examination
VI. Thesis Writing (6 Units)
| | | |
| --- | --- | --- |
| Course Code | Course Title | Units |
| SSE 300 | Thesis Writing | 6 |
PSU REQUIREMENT- SUMMARY OF UNITS:

Foundation Courses
      9
Specialization Courses
     15
Elective/ Cognate Courses
      3
Computer Course
      3
Thesis Writing
     

6

TOTAL
     36

CHED REQUIREMENT- SUMMARY OF UNITS:

Core/Foundation
     9
Major Courses
     15
Cognates
     6
Thesis Writing
     

6

TOTAL
     36
Educational Management
Communication Arts in English
Communication Arts in Filipino
Science Education
 

DR. HONELLY MAE CASCOLAN


Doctor of Philosophy
DR. GRACE M. SURATOS
Doctor of Education
(SCIENCE)

DR. EMMANUEL ROSS TOMAS
Doctor of Education
(SCIENCE)

DR. RAQUEL PAMBID
Doctor of Philosophy
(SCIENCE)

Computer Education
DR. SHERWIN GALAMGAM
Doctor of Education
(Computer Education)
DR. FREDERICK PATACSIL
Doctor of Information Technology
(Computer Education)
Guidance and Counseling
Mathematics
DR. MICHAEL HOWARD MORADA


Doctor of Education
(Math Education)
DR. IRMA MIRASOL FERRER
Doctor of Education
(Math Education)

DR. SHERWIN GALAMGAM
Doctor of Education
(Computer Education)

DR. RODELIO GARIN


Doctor of Education
Special Education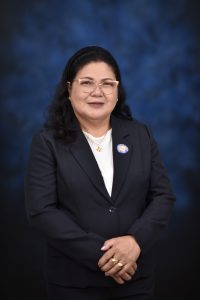 PERLA DELOS SANTOS
Master of Arts in Education
(Special Education)